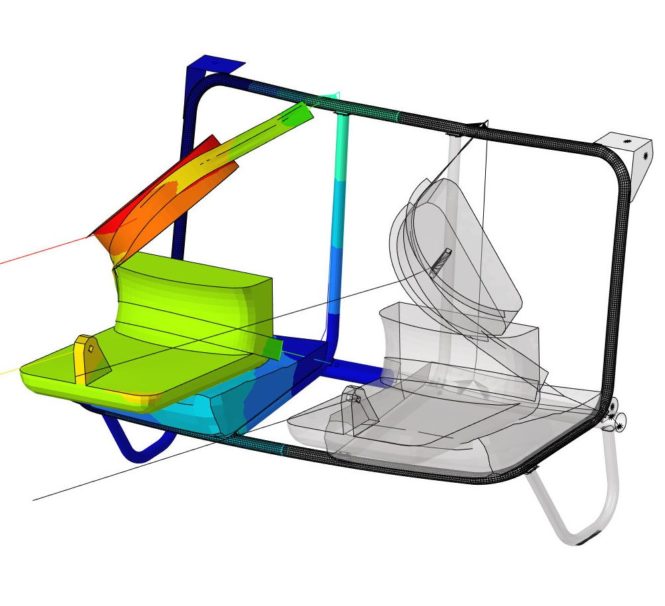 The use of simulations in the design process of new products comes with a number of advantages. To begin with, simulations can be applied early on, before any prototypes are available for testing. Already at the conceptualization phase of a project we use analysis and optimization driven methods to achieve broader design exploration and make better informed decisions.
At a later stage, when performance of a detailed design is validated, application of simulations significantly shortens the duration of validation cycles, allowing us to respect deadlines and provide valuable inputs for redesign in good time.
Multiphysics simulations enables us to study the combined influence of a multitude of physical phenomena on a design and optimize the product to perform better in real life conditions.
Optimization
Through optimization Optiphore's team aims at creating lighter, stronger and more sustainable components and products. Our experience in applying various optimization methods combined with using state of the art commercial solvers allows us to achieve great results. Application examples include:
Topology optimization to drive new designs
Topography optimization to improve design of sheet metal parts
Size and shape optimization to maximize the performance of a design
Structural Simulations
We perform structural simulations across the board, for the validation of products. These include linear and non-linear analyses for both static and dynamic problems. We employ simulations to study all sorts of structural problems. Some examples include:
Automotive homologation, such as R14 & R17 car seat tests
Squeak and Rattle occurrence risk for automotive applications
Effect of wind loads on buildings, bridges and other similar structures
Drop tests of consumer goods
Manufacturing Simulations
We apply simulations for the verification of the manufacturability of new designs and the minimization of risks related to production. In addition, cost reductions related to the production process are also possible. Through simulation we are able to optimize designs, to reduce the amount of material used for their production without sacrificing any of their performance, but also to optimize the manufacturing process. Representative examples are:
Sheet metal forming and extrusion simulations
Study of the entire 3D printing process
Simulations of casting and injection molding production methods
Computational Fluid Dynamics
Computational Fluid Dynamics (CFD) is the analysis of fluid flows with the use of numerical methods. It specializes in the simulation of systems that involve gas-solid, liquid-solid and gas-liquid or liquid-liquid interactions. CFD analyses can reduce the cost of the design process as they can bypass the expensive and time-consuming stage of experimental testing and data acquisition, while providing results for various types of flow conditions. CFD can be applied in numerous engineering fields, including, but not limited to:
Hydrodynamics and aerodynamics: Determining the performance of moving objects (cars, ships, airplanes, etc.) in fluid medium (air, water, etc.).
Heat transfer: Evaluating the performance of heating and cooling equipment in all types of environmental conditions, e.g. heating and cooling of enclosed spaces, cooling of car parts, solar radiation, etc.
Fluid structure interaction: Assessing the effect of fluid flows on solid objects, e.g. moving machine parts that operate in a fluid medium.
Two-phase flows: Simulating the interaction of two immiscible fluids, e.g. formation of wave pattern around a ship hull (evaluating the hull's drag), mixing of two liquids with different density values, etc.