Multivariant product development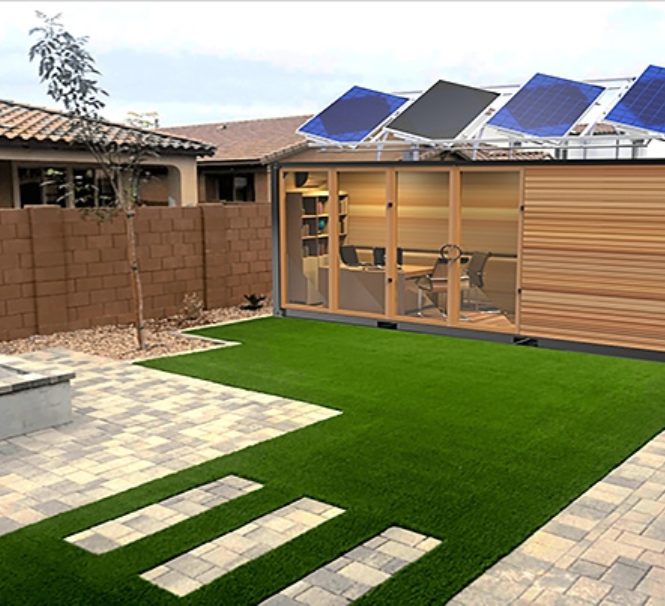 A container-like customizable workspace
In the era of digital transformation of work, the use of remote or home office is gaining ground. This requires the existence of an isolated and autonomous workspace. Optiphore aspired to best meet this need by undertaking the design of a Multivariant Product solution that can be easily transported and installed anywhere securing energy and functional autonomy. By applying our experience in System Integration, Product Lifecycle Management (PLM) and 3D Computer Added Design (CAD), we managed to come up with highly efficient Packaging solutions for this Sustainability minded product.
In recent years the renting or leasing cost of office space has sky-rocketed, becoming unaffordable to start a small or startup business, especially in large cities such as London City, Paris, Zurich, or Amsterdam. Additionally, the current Covid-19 pandemic has put extra emphasis on home office capabilities that many working people simply do not have.
One way to overcome this speedbump, without having to invest too much, is using traditional shipping containers as office space. The container can be transported easily and placed at any pre-owned space, providing the benefits of the office environment, while working at home. In many countries not even a building license is required.
Optiphore has undertaken the complete CAD design and structural analysis of this container-like workspace, focusing on the following requirements/characteristics:
Compatibility with the standard ISO container transportation system, on and offshore. The dimensions of the 20-foot ISO container as well as the locking devices for hoisting and securing have been maintained.
Structural integrity of the product especially during its transportation. This requirement dictated maximum values of acceptable displacements and deflections to avoid any possible damage. Practically, a number of structural simulations were conducted for the prespecified, real world load cases.
Versatility due to the many layout variants offered within a given, tight space (one or two peoples office, meeting room, cantina layout, etc.). The Configuration Management of a complex multivariant product requires experience and proper Product Lifecycle Management (PLM) tools. By employing such tools good overview of the development effort as well as attention to all variant-specific details is ensured.
Energy self-sufficiency and water saving capabilities are of paramount importance to such a sustainable product. The container workspace is therefore equipped with walls consisting of composite, "sandwich" structures calculated to increase heat insulation thereby minimizing the HVAC energy expense. On top of that, there is the possible adoption of, photovoltaic arrays coupled with battery storage, in cases of off-grid use. As far as water saving goes, rainwater collection and storage are possible. Additionally, black/grey water storage systems are available to allow for their later proper treatment.
Complete integration and harmonious function of the necessary subsystems ex. electrical, piping, HVAC, water storage, etc. within the rest of the structure. The creation of a fully operational office space within the dimensions of a 20-foot ISO container offering additional amenities like a WC and kitchenet is not trivial. Top level system integration is necessary for the production of really functional layouts.
Low cost is always a desired outcome. Thanks to the modular design minding the commonality of certain components, economies of scale can be achieved. Furthermore, the use of standard, off-the-shelf components for the various subsystems lead to additional cost savings. Lastly the topologically optimized structure implies further savings in raw materials.
By using durable, recyclable and environmentally friendly raw materials, a complete and inspiring proposal is provided: a solution for freelancers and remotely working professionals of the modern age.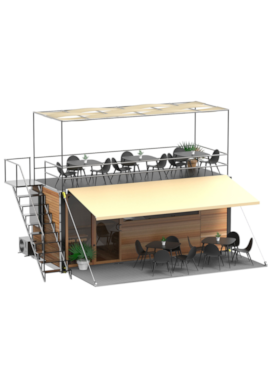 Multivariant product development
Thank you! Please check your inbox to verify your email.
Something went wrong. Please try again later.